Saddle Pads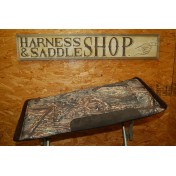 Each one of these high quality pads is made right here in our shop in Bryant, Alabama. We use only first quality American made materials including, Herculon fabric, cordura, fleece, leather, and felt. As a bonus we use post consumer-earth friendly recycled wool fiber felt padding in the middle of all of our pads and girths. We can also build custom orders, so if you have a special need give us a call.
Riders Choice Top Quality Saddle Pad Set Weight: 9 lbs. Color: Denim Blue Pattern 32" long by 29" Wide Pad 1.5 - 2" Thick 32" Long Matching Girth Matching Horse size Breast Collar Thick Fleece on bottom of entire set(Great for sensitive horses) Real Leather wear pads. The pad is washable and covered under a one year workmanship warran..
Riders Choice pads are all handmade one at a time in our shop by Ms. Denese Nash. Unlike other pads that you will find online and in stores which are imported and cheaply made, our pads are made from the finest first quality material produced in the United States. Top quality durable fabric and real leather set our pads apart. Riders Choice Top Quality Barrel Saddle Pad&nbs..