Welcome to Riders Choice!
Every product that you find within these webpages is handcrafted here in Bryant Alabama. If it's not made here, we don't sell it! We stock a complete line of handmade western saddles and can also build to order. Pads, bareback pads, and matching tack are also items that we build here in our saddle shop. For years our family has built saddles for wholesale companies that place saddles in catalogs and stores near you. But today, from Riders Choice, you can buy quality American made saddles for that same wholesale price. We are here to serve you and make your riding experience the best possible.
Special Offers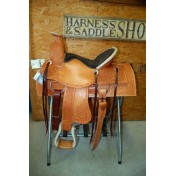 The saddle is in stock and ready to ship! 16" - #42215-G.W. Crate Master Series Custom Wade Roping Saddle Weight : 38 pounds Color: Sun tanned and Oiled (Natural) Tree: Steele Co. Equi-fit Wooden wrapped lifetime warranty with Full quarter horse bars Horn: 4" wide Wade roper with rawhide tip Cantle: 5"rawhide pencil tip Rigging: 7/8 position Stainless Steel in skirt rigging Complete Rear Cinch Skirt: 28" -90 degree square skirt Stirrups: Oversize Rawhide Ropers 6 1/4" inside with 3" Leather Covered Blevins Buckles Leather Double billet and Latigo Tie Breast Collar Dee's Crup..
$2,999.00
$1,499.00
Ex Tax: $1,499.00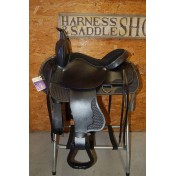 The saddle is in stock and ready to be shipped! 16"- #20316 Riders Choice Masters Series Custom GAITED TREE (WALKING HORSE) Trail Saddle Herman Oak American Tanned 13-15 OZ. Leather (Circle Y uses leather that is only about 7 oz which is half as thick as the high quality stuff that we use) Tree: STEELE EQUIFIT GAITED Tree Lifetime guarantee. A nice wide gullet and It also has the open tunnel skirt design to relieve pressure around the spine. The Steele Family has been making saddle trees for over 180 years. Seat: 16" Black suede leather Double Stitched Padded with the thickest Memo Neoprene used in the industry..Super Comfortable Hand Stamped baske..
$1,720.00
$899.00
Ex Tax: $899.00
Showing 1 to 2 of 2 (1 Pages)