Custom Saddles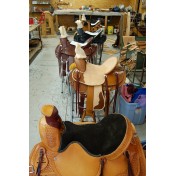 Riders Choice saddles are made in Bryant, Alabama from high quality US steer cowhides purchased in Kentucky and Tenneessee. We also get our trees locally from Tennessee and Alabama and our Fleece from the only manufacturer left in America. We strive hard to bring you the highest quality American made saddle at the lowest price that you will find. If you are looking for something extra special or custom made, check into our line of G.W. Crate Custom saddles. Whether you are looking for an inexpensive saddle or a lifetime saddle, we are your local American saddlery.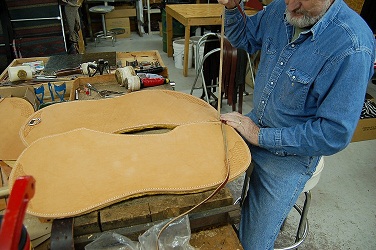 Refine Search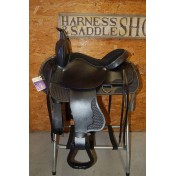 The saddle is in stock and ready to be shipped! 16"- #20316 Riders Choice Masters Series Custom GAITED TREE (WALKING HORSE) Trail Saddle Herman Oak American Tanned 13-15 OZ. Leather (Circle Y uses leather that is only about 7 oz which is half as thick as the high quality stuff that we use) Tree: STEELE EQUIFIT GAITED Tree Lifetime guarantee. A nice wide gullet and I..
$1,720.00
$899.00
Ex Tax: $899.00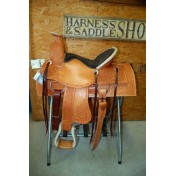 The saddle is in stock and ready to ship! 16" - #42215-G.W. Crate Master Series Custom Wade Roping Saddle Weight : 38 pounds Color: Sun tanned and Oiled (Natural) Tree: Steele Co. Equi-fit Wooden wrapped lifetime warranty with Full quarter horse bars Horn: 4" wide Wade roper with rawhide tip Cantle: 5"rawhide pencil tip ..
$2,999.00
$1,499.00
Ex Tax: $1,499.00
Showing 1 to 2 of 2 (1 Pages)